KASP: 40 YEARS OF SECURITY EXPERTISE
Monday, 20 February 2023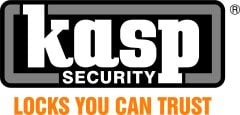 Kasp is one of the UK's leading security padlock, chain, and cable brands. Its concise range has been developed over the course of 40 years in the security industry. Designed and manufactured to the highest standards, Kasp is globally recognised for its innovation and strength and is the first choice for a wide range of tradespeople.
Kasp Lockout
Kasp Lockout is a range of essential tools designed to protect maintenance professionals from accidents at work. Every year, thousands of accidents at work occur during the repair or maintenance of machinery, and most are due to a failure to isolate energy sources. Kasp Lockout safeguards against a sudden release of energy, locking off energy sources using padlocks and physical security devices.
This universal mini circuit breaker isolates single, double, and triple switches. Its simple installation uses no tools, and quickly protects against dangerous energy surges while maintenance and repairs are carried out. Simply place the tool over the switch, tighten the easy-to-use thumb screw, rotate the screw toggle and lockout with a padlock. Made from quality, non-conductive material, the Kasp Easifit MCB Lockout is an essential part of any maintenance toolbox.
Ideal for locking out wider miniature circuit breakers, this pin lockout uses a simple push button installation – no tools required. Made from high quality, non-conductive material, the pin lockout works with one padlock and fits a maximum shackle diameter of 6mm.
This unique kit contains all the essential parts to lock off one mini circuit breaker. The kit includes an Easifit MCB Lockout, one 25mm brass padlock, a danger and identity tag, and a carabiner to hold the kit together.
This kit is ideal for a broad range of circuit breakers, including those over 60 amp. It's easy to use and contains both the Easifit MCB Lockout and the Pin Out Wide Lockout. Fitting neatly into a sturdy red pouch with a carabiner for hands free access, the kit also contains a 40mm red vinyl coloured brass padlock with brass shackle 40mm, a 25mm brass padlock, a lock off hasp, a tagout market pen, and a danger tag.
Kasp Nylon Safety Padlocks
Constructed from Nylon, the K800 series is a non-conductive, non-sparking padlock designed for electrical lock-off applications. For ease of identification, each lock is supplied with six different coloured 'Danger' and 'Property of' stickers.
Kasp Van Lock
According to Met Police data, nearly 35,000 tools were stolen in the capital city alone between January 2021 and October 2022. A third of those tools were stolen from vehicles. Kasp Van Locks provide the ultimate defence for tradespeople seeking to protect their vehicles.
Kasp 500 Van Lock and Hasp
Designed just for vans, the Kasp 500 Van Lock's chrome plated hardened steel body gives incredible strength as well protection from corrosion. A shrouded steel shackle offers the ultimate safeguard against hacksaw and cropping attacks, while its six-pin cylinder defends against lock picking. With a corrosion resistant mechanism to protect against the elements, this is the ultimate van lock.
Meanwhile, the hasp is made from zinc plated heavy duty steel, giving excellent security and protection against corrosion. It is supplied with fixing bolts and includes a nifty storage bracket to hold the padlock when the van is open.
For further information on Kasp products visit https://www.kaspsecurity.co.uk/home, or to enquire about stocking Kasp visit https://www.carlkammerling.com/contact_us/ or call customer services on 01758 701070.